Today our fleet includes hydro jetting machines, sweepers, trucks, airport multi-role machines and other small machines.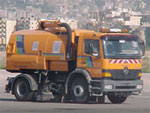 Custom made Multi-Role Sweepers
This type of sweeper is used for the following tasks:

Accidental Spill Containment and Removal
Liquid recovery can be achieved via full width (2500mm) suction nozzles operating independently from a brush gear.

Aircraft Stand Cleaning and Scrubbing
2500mm wide full width scrubbing head, sophisticated detergent management and application systems, and high pressure surface wash down facilities ensure superb hard surface cleansing results

Runway Rubber Removal
Water based detergents are utilized in conjunction with the unit's built in detergent management, surface scarification and high pressure water systems to produce an environmentally sound answer to this problem.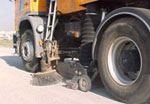 S700 Sweepers
Sweeping Capability
Over 90% pickup of material will be made at sweeping speeds up to 50kph. Not only does this give effective clearance, but a coverage potential of over 112,500 mē/hour minimizing the cost of disruption to runway and airport operations.

Unique Pick-Up Hood Configuration
Ground seeking self contained suction hood carried on puncture proof independent wheel clusters, ensuring close ground contact at all times. Hood design incorporates automatic large debris pick up facility. Unique combination of air down blast, brush scarification and suction provides total pick up capability even at high speed.

Low Environmental Impact
Internal centrifugal separator combined with an atomized water system ensures maximum dust containment without complex and costly filtration systems. The auxiliary engine utilized is fully compliant with emissions legislation, while the regenerative air system keeps air and particulates contained within the machine.

All Weather Operation
Pressurized water system blow through and exhaust heated body ensure that high or low ambient operational temperatures do not interfere with effective operation.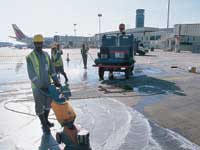 Scrubbing Equipment
MISC owns and operates in its Airport Maintenance Division sufficient number of runway brooms and industrial scrubbers that allows it to respond to any type of spill emergency and correct such incidents in a timely manner.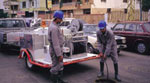 Gem Jet
Small high pressure Gem-jet machines clean lines up to 300 mm Diameter. It doesn't damage the pipes while pulverizing dirt and flushing it downstream.
It cleans thoroughly and removes grease and trapped objects in a short time span.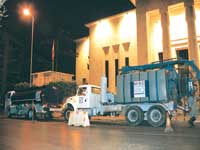 Combined Hydro Jetting Machines
As a combination vacuum and high pressure water jetting unit, with large combined tanker machines consist of two independent compartments (2000USG vacuum and 1000 USG flush water) for cleaning sewer drains or catch basins as well as performing other cleaning operations especially for large pipes.

The cleaning action results from water traveling from the storage tank into the water pump and being pumped to the hose reel and nozzle at high pressure and high volume. The vacuum system provided is superior to any other method available. It is capable of both wet and dry operation.

CCTV